Find out about the SMILER Portfolio: It will make you smile! Guitar Hero III and Rock Band. Christmas Lights. Cramer's new book giveaway. Win Audio CD set. How to keep investments straight. Commanding Heights. Guru. Tool. Liberty Dollar raid.
I ENCOURAGE you to Download this show thru iTunes!


But, if you just can't possibly deal with that then go ahead and
Play the new show right now

A SMILER Portfolilo
[ 36:04 ]
Play Now
|
Play in Popup
|
Download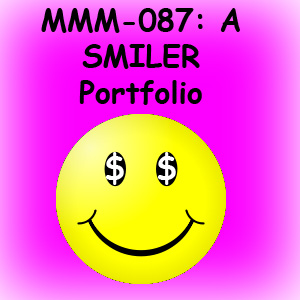 Thank you Zune for making the Mad Money Machine the 2nd-most subscribed podcast in your marketplace.
Call IFA 888-6433-133
I had the Unanimous Decision at Moe's. (Not the Ugly Naked Guy)
We played Guitar Hero III and Rock Band at Best Buy.
I predicted this on show #3: GE's Lights and Sounds of Christmas available at Costco. Lights are synchronized to the beat of the music.
Cramer is going to send me some copies of his new book Stay Mad for Life and guess who will get the extra copies? YOU!
WIN WIN WIN a copy of the 4-CD set called "An Audio Journey to Tradeless Nirvana" by making a comment about this show in iTunes.
On Sound Investing a caller asked, "How do I keep all my asset allocation straight across our several accounts?" I think you need to create a spreadsheet with columns for taxable, my retirement, and my wife's retirement and then rows for each of the asset classes.
This portfolio will make you a SMILER:
S: Small Cap (also Small Cap Value)
M: Micro Cap
I: International (include small cap international here too)
L: Large Cap
E: Emerging Market
R: REITsIf you are a do-it-yourselfer, here are ETF and Mutual Fund options for each:

| | | |
| --- | --- | --- |
| SMILER | ETF | Mutual Fund |
| S | VBR | VISVX |
| M | IWC | BRSIX |
| I | VEU | VGTSX |
| L | VTI | VTSMX |
| E | VWO | VEIEX |
| R | VNQ | VGSIX |

If you want someone to help you invest in a SMILER-like portfolio, please contact Index Funds Advisors at 1-888-643-3133 (and tell them Paul Douglas Boyer sent you).

From the period 1 Jan 2000 through 1 Oct 2007, the SMILER mutual fund portfolio (each fund equal-weighted at the start) has had an annualized return of 13.7% with an annualized risk of 13.5%.

I recommend you watch the first couple of hours of Commanding Heights.
I watched The Money Masters. Three and a half hours of talk about the Federal Reserve system takes some dedication to get through, but I do recommend at least watching snippets of it.
We look at the Portfolio Smackdown results so far. WHAT SHOULD WE DO FOR 2008??? A Risk vs. Reward Portfolio Smackdown where each participant tries to buy and hold index funds to get the biggest reward for the least amount of risk? Anyone know how to write a web application to facilitate this?
I plotted some of your portfolios. Every one had funds less than eight years old. One had great returns but also was exposed to great risk. Most had actively-managed funds with high expenses. Want your portfolio examined? Send me the ticker symbols and percentages and I'll run it through my spreadsheet.
Our Guru really believes in the individual, small government, and strict protection of private property. You can read his treatise online.
Our Tool scraps a previous tool and keeps my wife and I in sync even better.
I'll be back the week after Thanksgiving. Be on the lookout for the full-page advertisement in the USA Today for Ron Paul for President on 20 or 21 November. Also, please sign up at TeaParty07.com to pledge your support for December 16th.
The Feds Raid the offices of Liberty Dollar and take all their stuff.
Music from music.podshow.com:
ALTA PLAZA – XRAY DOGS – not played on this show!
Remember Hope – Farewell Redemption
Ever After – Farewell Redemption
Life Less Ordinary – Carbon Leaf
The Pop Culture – DJ Top Shelf
What About Everything – Carbon Leaf
Ruby In the Dust – The Runaway Train – Under Feather
The Mad Money Machine is proud to be sponsored by Index Funds Advisors at ifa.com.
Email me: feedback at Mad Money Machine dot com, or comment, or Call me on the Mad Money Machine voicemail line at 206-734-4763